ON THE BACK OF A RECENT BOARD REVIEW, WE'VE JUST RUN A ½ DAY WORKSHOP BASED ON PATRICK LENCIONI'S MODEL OF TEAM EFFECTIVENESS (SEE HIS BOOK "THE 5 DYSFUNCTIONS OF TEAMS".
LENCIONI'S MODEL PROVIDES A SIMPLE FRAMEWORK TO DRIVE EFFECTIVENESS THROUGH RIGOROUS DEBATE AND A SINGULAR FOCUS…BUT BUILT ON A FOUNDATION OF TRUST, SELFLESSNESS, MUTUAL COMMITMENT AND ACCOUNTABILITY.
---
THE CORE PREMISE:
Lencioni's model is built on the following premise:
Pursuit of a clear goal requires commitment and accountability from the whole team,
this won't be truly present if there is a lack of buy-in from all members.
buy-in can only be achieved in an environment where the options have been fully debated and
open debate can only be achieved in an environment of trust, where people speak frankly and with full participation.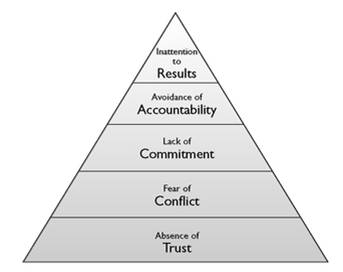 5 QUESTIONS TO DRIVE EFFECTIVENESS
Following are 5 key questions to ask your Board or Executive team (and some tips we discovered from running the workshop):
IS THE "JOB TO BE DONE" CLEAR?
This is a different take on the usual strategic planning approach where we work on a few priorities simultaneously and delegate these across the organisation.  Instead, the idea is to select a single, short term goal which cuts across the organisation and which everyone needs to get behind.
This was a challenging exercise because everyone has a slightly different take on what is the "single most important thing".  What we found worked best was to set the 'job to be done' within the context of the broader strategy (ie: it doesn't replace it). It also worked best when expressed as a business outcome rather than a financial goal.
For example, we considered a sales target, a production milestone and revenue goal.  The actual goal selected was a channel development goal over the next 4 months which would then pull through (automatically) a number of other major initiatives in its wake.
2. IS THE TEAM HOLDING ONE ANOTHER ACCOUNTABLE?
The usual approach to the execution of the strategic plan, is to divide & conquer.  Lencioni's approach however says that in the case of the single overriding goal (what I'm calling the "job to be done"), everyone contributes.  It doesn't sit in a single silo or department. Instead it's so important that everyone is on the hook for it and everyone is required to hold one another accountable for progress.
3. IS EVERYONE COMMITTED?
Patrick Lencioni makes the observation that it's too easy for people to sit on the side line and say "that's their goal, their department. I don't need to worry about that". Instead, this approach demands full buy-in from everyone around the table.  There are no observers.
In our case, we were considering a $20m investment.  We had to move the project (and our mindset) from 1 person's responsibility for success (ie: a Department Head), to the group taking mutual responsibility for success. Interestingly, this also required the leader of the project to give up a degree of ownership and accept other people's involvement.
 4. IS THERE ENOUGH DEBATE AROUND THE TABLE?
Like many organisations, there was a degree of 'diplomacy' at work around the table (ie: people not wanting to rock the boat).  As such, there was an absence of debate.  This was creating an environment of limited buy-in to decisions and reinforcing siloed behaviour.
To break this habit we had to invite active debate. We forced one another to express and understand opposing views and when faced with easy consensus, tested that through questions such as "someone give me a contrary view here" or "someone make an argument against this".
 5. ARE PEOPLE HOLDING BACK?
If people are guarding their words or not sharing their real views, there can't be full and active debate. This team was finding it difficult to separate the issue from the person. They were concerned that speaking their mind would come back and bite them at them at a later date.
This is a big hurdle and yet crucial if a group is going to fully debate and explore options for the ultimate benefit of the organisation.  A lack of trust is a hard one to overcome and not something that can be fixed overnight, but it's important to start the process.  We began down this road by using a form of 360 degree feedback so that the group could reflect on and appreciate one another's strengths.
WHERE TO START:
In an environment of increased focus on Board and leadership effectiveness, Patrick Lencioni provides a great approach to achieving results through better decision making, commitment and focus.  More importantly, it gives a Board or executive team a common language to tackle the issues that get in the way of team effectiveness and begin the journey toward a high performing team.
---
https://www.boardassociates.org/wp-content/uploads/2022/12/BOARD-EFFECTIVENESS.jpeg
1001
1500
Matthew Dunstan
https://www.boardassociates.org/wp-content/uploads/2022/11/BoardAssociatesLogoReversedNew.png
Matthew Dunstan
2018-11-20 03:13:37
2022-12-20 03:18:05
A New Model of Board Effectiveness